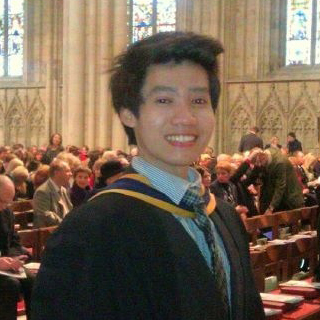 Studying overseas: my personal impression
Luke, 27, from Narathiwat province, has got a full story why choosing Smile campus has given him a clear-cut answer to pursue his study in the UK.

'Everyone has a dream and I am confident to say I have achieved my big dream', Nong Luke said firmly during our interview of why coming to attend a Master's degree in the UK has fulfilled his expectation. Luke who completed a postgraduate degree in MA TESOL in 2010 at York St John University located in the north of England obtained helpful advice from Smile Campus international. Here are his personal expressions on how he has been impressed with the service he received from smile campus international.

Coming to study in the UK is my big dream; however I always kept thinking that my great dream seemed to go beyond my expectation. Fortunately, I met my ex-school friend who expressed the same interest as me in studying abroad. She suggested a reliable educational agency which could enable me to push up my dream to come true more simply. I didn't quite believe what she said at first as I always realise free things always come with a string. Nevertheless, I made up my mind to take a chance by contacting the smile campus staff for some educational advice and finally had a chance to have a chat with Khun Heart who is a founder of smile campus international. I would definitely say I was enormously impressed with how friendly the agent was during our first informal talk. He provided me with not only a piece of the educational advice but also the motivation which plays the critical role in achieving my goal. I asked him a series of questions about the study, the university choice, the financial plans, and the city which suited my lifestyle. He covered up all of the precise and concise information which I wanted to know professionally. I felt very pleased that having a good chat with him could lead me to a clear direction on my educational journey to the UK. Furthermore, the agent also followed up the procedures on both of my university admission and visa application, all of which were free of charge.

This sounds impossible, but honestly I felt overwhelmed by the dedication of the agent. I truly felt everything seemed to run swimmingly because of the practical guidance from Smile campus. Besides, after I got offered a place at York St John University, the team from the smile campus still caught up with how I was doing at the university and came to visit me and other Thai friends to ensure we were fine living in the UK. They still gave us some ideas about British culture and kindly offered a hand by bringing some necessary items from Thailand too. This is the most important point to show an incredible service which I received from the agency. They cared about us and treated us like a family member. I can say we were like intimate friends sometimes and always kept contacting through emails when we needed help. This has been considered a quality service by far and I have never been disappointed to use Smile campus as my educational advisor at all.

2 years on I have completed my course and am now working as an interpreter for public services in the UK, Smile campus still keep in touch and arrange a meeting to have a chat with us when possible. This is the real sense of sincerity which I don't think I would be offered the first-class and friendly service from any other agencies like Smile campus international. I would like to say thank you Khun Heart and the Smile campus team very much for the valuable advice and great care. My educational dream came true is because of you, smile campus international.
Copyright © SmileCampus. All rights reserved.